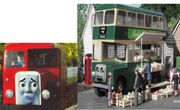 There are two well know buses on the Island of Sodor. Bertie is single decker and takes passengers to areas that the Railway Lines can't reach. He is usually seen on Thomas' Branch Line. He and Thomas often race to see if Roads are better then Rails. The other bus is named Bulgy. He is double decker and first came to Sodor to help with the Bank Holiday passengers. He stole the passengers Duck and Oliver were supposed to take home but Bulgy said he knew a shortcut. The shortcut went under a bridge which was too low for Bulgy and he ended up stuck. He was then punished by having to stay in the nearby field as a hen house. Then one summer, the Branch Lines were very busy and both Thomas and Emily were being repaired. Thomas called this "A Double Decker Problem" which gave Sir Topham Hatt an idea. He restored Bulgy but the hens snuck into Bulgy at night and scared the passengers. But Bulgy was given a second chance and is now a dark green color and carries fruit and veggies across the Island. One day, Bertie pulled up to Elsbridge Station to drop off passengers. Bulgy had dropped off some fruits for the Stationmaster. "Hello Bulgy!" Bulgy said nothing and drove away. "What was that about?" he wondered. "Maybe Bulgy just needs some friends." replied Thomas. When the days work was over, Bertie went to the bus depot. "Hey Bulgy, want to have some fun with your good friend Bertie?" he asked. "Humph!" scoffed Bulgy. "I don't have time to make friends." Bertie was upset, he didn't know why Bulgy didn't want to be friends. The next morning, after dropping off passengers at Ffarquarr, Bertie was on his way to Brendam. Then he saw a shocking site. It was Bulgy. He was hanging dangerously off a bridge. Squashed fruit and veggies were everywhere. "What happend?" asked Bertie. "I was on my way to drop off a shipment at Brendam when I slipped on some Oil and I close to falling off the bridge. My shipment is ruined!" cried Bulgy. Bertie knew the Sodor Search and Rescue Center was nearby. At the Rescue Center, Butch was resting in the sun and talking to Rocky. "Bulgy's in trouble!" he cried. "You must save him Butch!" "I'm ready for action!" Butch raced to the rescue. "Hold tight!" he called out to Bulgy. Bulgy was soon safely back on the road. "Thank you so much!" he said. Back at the Bus Depot, Sir Topham Hatt praised Bertie. "Well done, you quickly thought up a plan and Bulgy was saved in no time." "It's not every day you see a bus plan a rescue mission" laughed his driver. After Sir Topham left, Bulgy had a big smile on his face. "Thanks Bertie. You're a real great friend!" "Friend?" "Yes, you are my friend!" "But why did you avoid me before?" asked Bertie. "Well, not everyone likes me after all the trouble I caused." Bulgy replied. "Well we're buses, so we should stick together and be friends!" said Bertie. Bulgy agreed and the two are now great friends.
Characters
Edit
Bertie
Bulgy
Butch
Thomas
Sir Topham Hatt
Rocky (does not speak)
Duck (shown in flashback)
Oliver (shown in flashback)
Emily (shown in flashback)
Flashback footage from "Bulgy" and "Bulgy Rides Again" is used.